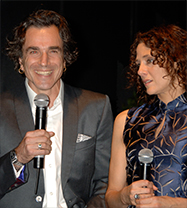 Daniel Day-Lewis and Rebecca Miller Present If...
Grand Classics was launched in Istanbul, with a screening of Lindsay Anderson's If… introduced by Daniel Day-Lewis and Rebecca Miller. Luxury Turkish clothing company, Vakko and the Hakko family hosted an unforgettable evening on the Bosporus as part of an incredible weekend celebration of Grand Classics:
Rebecca Miller: "This film means a lot to me personally because of the great freedom – formal freedom and personal freedom that to me it embodies… In a way it is strange that it has become a classic as it is a film that was so fresh and violent in its own moment and I think it still probably is…"
Daniel Day-Lewis: "[Director Lindsay Anderson] really started as a film critic and co-founded with Karel Reisz a very influential film magazine called Sequence… Together with Karel Reisz they co-produced a group of documentaries at the National Film Theater and out of that came the idea of the "Free Cinema Movement": the idea which was to present possibilities to filmmakers who had difficulty in showing their films…
If… for me on a more personal level was made in 1968. I was an 11 year old who had just been sent to boarding school… and when I first saw it, I knew that something momentous was happening even at that age. I mean for the 11 year old anarchists on the front line… it was like a call to arms and even the rumor of it before we even saw it gave us a sense that reinforcements were coming. And like all great creative works it gave us the feeling finally that we were less alone in the world. I didn't survive very long at that particular school and Lindsay Anderson may have had something to do with it…"
"And like all great creative works it gave us the feeling finally that we were less alone in the world."
If…
Lindsay Anderson's If….(1968) is a daringly anarchic vision of British society, set in a boarding school in late-sixties England. Malcolm McDowell plays the insouciant Mick Travis, who, along with his school chums, trumps authority at every turn, finally emerging as a violent savior in the vicious games of one-upmanship played by both students and masters. Mixing color and black and white as audaciously as it mixes fantasy and reality, If…. remains one of cinema's most unforgettable rebel yells. (Criterion Collection)
Malcolm McDowell makes his film debut as the care-free Mick Travis, a non-conformist student at an English public school. The film tracks McDowell's character and his classmates as they clash with school authorities and upperclassmen. Mick and his gang become violent as they are spurred on by escalating abuse. Feeling as if they've been denied of their individual freedom, McDowell utters the famous line, "When do we live?" The film's brutal end echoes the bloodshed and rage that precedes it.
Sponsor 
VAKKO