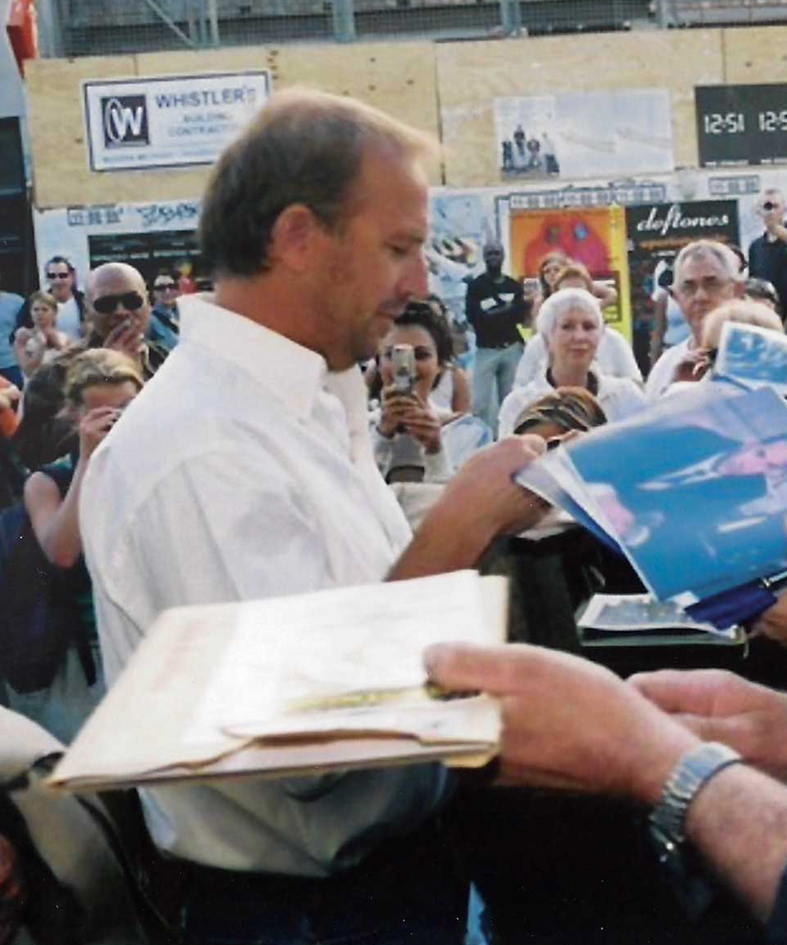 Kevin Costner Presents Cool Hand Luke
Costner picked the 1967 Paul Newman chain gang drama Cool Hand Luke – which won George Kennedy (later an Airport and Dallas stalwart) an Oscar for best supporting actor – as his inspiration when he hosted the second event in the London Grand Classics series.
"A great film is like an old friend," the actor-director told a room full of film fans at the Electric Cinema in Notting Hill. "It's a strange love affair – like Pavlov's dog to the dish, we go to the movies and hope for something magic."
"When I watch a classic movie, I realize I have to do better work. We should look to raise the bar, not the box office."
Cool Hand Luke – in which loner Luke (Newman), sentenced to a chain-gang for lopping the heads off parking meters, refuses to conform to prison life and refuses to be broken – "took my breath away", according to Kevin Costner. "I was 12 or 13 the first time I saw it. Paul was an anti-hero, not squeaky-clean – a new breed of hero, broken and bruised. "Ultimately he was so powerful I was rooting for him. This kind of movie turned the hero on his ear because his spirit was indomitable.
"Whilst most films transfer around the globe, this is a uniquely American film." The trouble is, he claims, we don't get many anti-heroes any more. "Studios used to be run by individual owners and entrepreneurs – like Richard Branson today – in the Twenties and Thirties. "They made films they wanted to and didn't change endings. Those studios were bought by corporations – stock-owners. They don't love movies in the way they used to.Stock-owners are not driven by the love of movies, they're driven by the bottom line. Harry Potter and Rocky – blockbusters like that prop up the studios. They feed the machine."
"The lifeblood of movies will always come from the independent world – it comes through with some shining moments, even if they don't always work."
Costner became one of Hollywood's biggest stars in 1991 when the western epic Dances With Wolves – which he both starred in and directed – won seven of the 12 Oscars it was nominated for, including best picture and best director. He's back in the saddle and behind the camera with Open Range, a western drama about a former gunslinger protecting his ranch. As a follow-up directorial project to The Postman, financiers weren't flocking to give him cash.
The genre wasn't hugely in favour either, but Costner had enough belief in the project to go out and secure independent financing. "I had to raise money at first," he told the Grand Classics audience. With a $20m budget – small by today's standards – he decided to shoot in Calgary, Canada, and didn't draw a salary himself. "A western is, historically, a place I'd like to live. It's not especially in fashion – especially if you're trying to make a comeback!" the self-effacing star says with a grin.
"You find the language of the genre you're working it – the goal is to make the best of its genre."
"That's not up to me – that's up to other people. Every day is about making something you'll never forget."
Costner spent years yearning to work with Newman, his inspiration and screen idol. Eventually he succeeded; the result was 1999's love story, Message In A Bottle. Newman plays Costner's crotchety dad and they stage a scene in which the two bachelors take the scissors to each other's locks – just as Costner's own dad did with him.
"I wanted to act with him so badly; I really wanted to play Paul Newman's son" Costner reveals. "I cherish those moments on screen. Especially when he's cutting my hair!" And that's a memory not to be snipped at.
"A great film is like an old friend."
Sponsors
SKYY VODKA, SKYMOVIES, THE WEEK