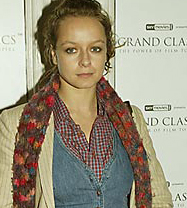 Samantha Morton Presents Ladybird Ladybird
When Samantha Morton was asked to choose a particular film as her favourite to present in the Grand Classics series, Samantha was initially planning to go for something a little more camp than the gritty realism of Ladybird Ladybird.
"The first film I thought of was Flash Gordon," she told the audience at Notting Hill's Electric Cinema, as she presented a screening of the Ken Loach docu-drama. No glorification, "It was really hard to decide on a movie but, in the end, I went for something that inspired me. For a film to be regarded as a classic, it needs to stand the test of time."
Ladybird Ladybird is a true-life British tale, centered on single mother Maggie, played by debutante actress Crissy Rock. Maggie battles with the social service department when they decide she is not fit to be a parent to her children. Unlike Hollywood movies, the good and the bad are not clearly defined, and there's no glorification of the characters. While Maggie was clearly at fault when one of her children came to harm, there was no recognition from the social services that she had a stable family life when she fell pregnant to her new love.
"This is my favourite film," said Morton. "Crissy's performance is why I am here. Ladybird Ladybird is a movie that inspired me, and at a time when I was disillusioned with acting, it was a performance that convinced me to carry on."
Ken Loach himself admits that the film is not overly accessible to most audiences. "It's quite a tough film to get through," he told the audience. "It's the first time I've seen it in nearly 10 years."
"For a film to be regarded as a classic, it needs to stand the test of time."
Ladybird Ladybird
The 1994 drama directed by Ken Loach uncovers the life of Maggie (Crissy Rock), a victim of abuse and a poverty stricken childhood has proved to be an unfit mother. Her four children having all been taken from her by governmental social workers and placed into foster homes, she delves into a new relationship with the patient and kindhearted Jorge (Vladimir Vega) who brings a newfound stability to Maggie's life despite her self-defeating behaviors.
Sponsors 
THE WEEK, SKYY VODKA, SKYMOVIES