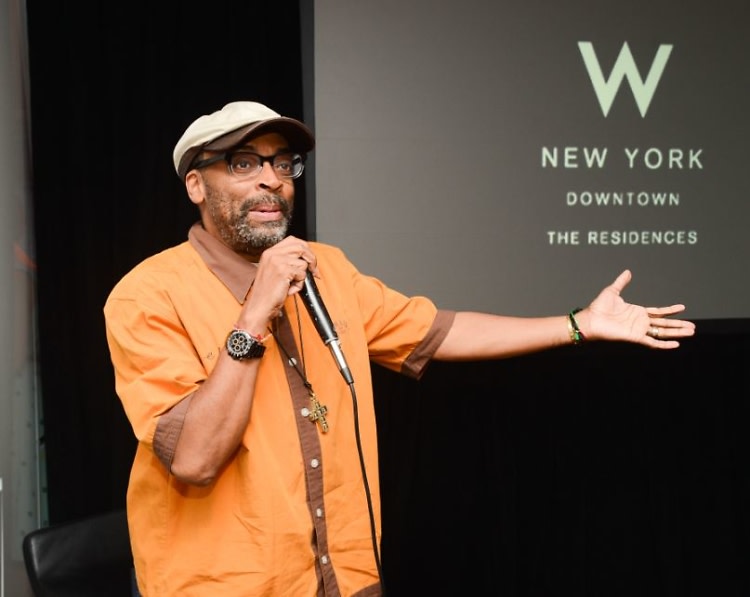 Spike Lee Presents Midnight Cowboy
The incomparable Spike Lee introduced the seminal New York film, Midnight Cowboy (1969). One of the stars of the film, Sylvia Miles, was able to come out in support of Spike and the event. Grand Classics partnered with W Downtown for a summer series: the special screening of Midnight Cowboy was presented by Spike Lee. The event offered insight into a classic film that helped inspire Lee's personal and professional life. Guests enjoyed a retro spin on traditional movie concessions including spiced popcorn, and a 1960s themed candy and cocktail bar which completed the pop up cinema experience. 100% of the proceeds from the screenings supported the NYU film School, an intensive three-year conservatory which trains students in the art of cinematic storytelling.
"Thanks for coming out. First I'd like to acknowledge one of the actresses that was in this film who received nomination for best supporting actress – Miss. Sylvia Miles. Hollywood is very different today. Here we are in the year of our Lord 2002 vs. 1969. I think it's very doubtful a film like this would get made because the ****, excuse me, the gatekeepers, the people who o.k. which films get made and which films don't get made. They would do a marketing survey and say that they don't believe that audiences would go and see a film like this… This is a great film… You look at John Schelsinger's great direction of this film. In my opinion it is the best performance of Dustin Hoffman & Jon Voight…. Music of Howard Wilson, cinematography of Adam Holender – all of these things really really came together."
Midnight Cowboy
Midnight Cowboy (1969) portrays the unlikely companionship and poignant drama of two homeless, down-and-out anti-hero drifters who are powerfully bonded together. It is a controversial, unflinching look at the harsh realities of life on the streets.
Joe Buck (Jon Voight) a good-looking, naively charming Texas "cowboy" who's convinced that he's the salvation of many love-starved New York women, makes his way to the Big Apple to seek his fortune. But the only wealth he finds is in the friendship of Ratso Rizzo (Dustin Hoffman), a scrounging, sleazy, small-time con man with big dreams. Living on the tattered fringe of society, these two outcasts develop an unlikely bond – one that transcends their broken dreams and get-rich-quick schemes. Together, they see and confront all the seediness, corruption and cruelty that flourish in the big city.
Midnight Cowboy received seven Oscar nominations including Best Actor (Dustin Hoffman), Best Actor (Jon Voight), Best Supporting Actress (Sylvia Miles), and Best Film Editing. And won three – Best Picture, Best Director (British director John Schlesinger), and Best Adapted Screenplay (by Waldo Salt from James Leo Herlihy's 1965 novel). It was the only "X"-rated film to win the Best Picture Academy Award. (In 1971 it was re-rated "R".)